Singing Career
Since she had been singing from the age of three, progression into the entertainment business was natural, and winning her first Talent Contest really got her career going.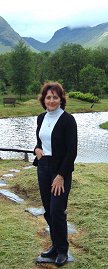 Her songs, for which she also often composes the music, are mainly of Scotland and the Highlands and these show a rare insight and love of her homeland. The albums which she has created have a wide appeal to all groups, and her poetry, a new venture, has a poignancy and wit which is both refreshing and subtle.
International Concert Tours
Moira's first appearance in the USA was in April 1998 in New York, followed by several concerts in California.
Moira made her Canadian debut in November 1998, sponsored by Island Music (a distributor of Celtic audios and videos, including Moira's) and Celtic Connection. She performed in Vancouver, Edmonton, and Calgary. Moira returned to the States in late January and February 1999 and performed at Burns Nights in Massachusetts and Arizona. Gigs at the Sarasota Highland Games in Florida and then in Pennsylvania followed.
Moira made another Canadian tour in February 2000.

Where Eagles Fly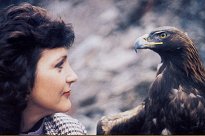 Moira's song writing abilities were really put to the test when BBC Television asked her to write twelve songs for the TV series "Where Eagles Fly" which presented a wide-ranging travelogue of the Scottish Highlands. In addition to performing her songs in the full video set of the programmes, Moira has also created a video of the songs with their accompanying scenic views of places such as Skye, Loch Lomond, Applecross and Torridon. See the CDs and Video page for more details.
The photo here of Moira and "Apollo" is not a composite graphic - the eagle really was that close!

Sweet Inspirations
When Moira appeared on the BBC TV programme "Sweet Inspirations" singing a selection of popular hymns, the positive response to her voice was so great that it resulted in the release of her first album of hymns called "Be Thou My Vision" and subsequent appearances on the BBC series "Songs of Praise".
CDs and Cassettes
CDs entitled "Glencoe: Glen of Weeping", "Bravest Heart" and "Celtic Soul" followed in quick succession.
Moira's latest album "Time and Tide" includes some original songs as well as many traditional favorites. A firm favorite is "When the Pipers Play" from the TV series "Instruments of War" which was shown on PBS in the United States.
Moira has now recorded no fewer than 10 albums, ranging from her original "folk" emphasis to jazz, hymns, and her current unique blend of contemporary Scottish music with time-honored traditional songs. See the CDs and Video page on this site for the complete discography.
Scotland Forever
In 2002, Moira became involved in the "Scotland Forever Tattoo" - a spectacular event which provides a showcase for the skirl o' the pipes and Scottish singers and dancers. Up to 400 pipers, drummers, Scottish country dancers, Irish dancers, a brass band and Scots and Gaelic singers perform at venues in both Scotland and England. Moira, accompanied by singer Stuart Barbour compèred the show in Glasgow (and sang a few songs too, of course) and did a repeat performance in 2003. See Scottish Tattoo 2002 for lots of photos of this event.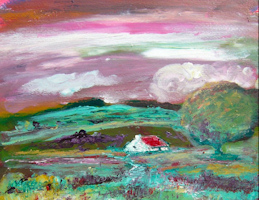 Painting
In addition to singing since before she could speak and doing harmonies since the age of 3, Moira's artistic talents have recently widened to include painting and she has been participating in an Arty Folks art club in Rutherglen. The club holds an annual exhibition and you can see some of Moira's work at Moira's Paintings. If you are interested in buying any of these, contact her via moira.maykerr@gmail.com.

Corporate Events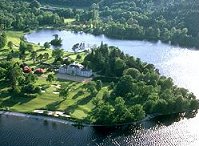 Moira has appeared at many prestigious venues in Scotland, including Edinburgh Castle and the five-star Gleneagles Hotel, and the prestigious Loch Lomond Golf Club (pictured here). She also went to Scottsdale, Arizona, on a promotional tour for the Loch Lomond Club. British Airways have called on Moira for a series of hospitality weekends at Gleneagles and their interenational sales conference.
Moira was also called upon to entertain the then Prime Minister, John Major, at a "Burns Night" at Shambellie House in Dumfries. More recently, she sang with her band on the quayside at Greenock as the "Tall Ships" set sail.
Moira's presentation skills have been developed over the years and she has recently become an accomplished after-dinner speaker.
If you would like to arrrange for Moira to perform at your event, as a singer, presenter or after-dinner speaker, see this page for further details.