Enthusiastic About Moira
If you agree that Moira Kerr is one of Scotland's finest singer/songwriters - and you have bought one of her CDs through her Wewb site or from Moira at one of her concerts - you will automatically be added to the Fan Club mailing list.
Benefits of Membership
Members will receive an occasional newsletter from Moira and advance notification about any new CDs and about public concerts where Moira will be performing. If you no longer wish to receive these emails just reply with "Unsubscribe" in the subject line.
How to Join
You can also join the Moira Kerr Fanclub by e-mailing her at moira.maykerr@gmail.com.
Fan Mail
Moira is always glad to receive feed-back from her fans. A selection of some of her fan-mail can be found on the Fan Mail Page.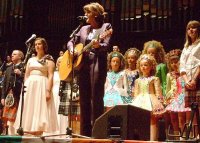 >

Moira at the Scottish Tattoo