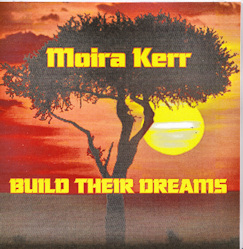 Build Their Dreams
Moira has met several people who have been involved in charitable work in Africa, from purifying the drinking water to building orphanages for the many abandoned and abused children. Just recently, she was asked to sing at a fund raiser at Houston House for such an orphanage by The Rotary Club of South Queensferry.
At the last minute, Moira decided to write a song appropriate for the evening. It got a great response and she was asked if she would record it - so here it is. Moira hopes that you enjoy it. All profits will go to one or more of the charities she has encountered and she also hopes that it will help to bring attention to the plight of these children, whose lives have been improved and sometimes saved by the existence of these orphanages.
The excellent arrangement and instrumentation on this EP were by Dave Cormack. Recorded and mixed by Peter Strachan and mastered at Tasty Productions.

Ordering This CD From Moira Kerr

This CD can be obtained direct from Moira at a cost of only £3.50 including post and packing in the UK. There is an additional airmail postal cost of £3.20 for European destinations outside of the UK or £4 for the rest of the world. All items obtained from Moira are signed personally by her on the CD insert.
The CD can be obtained via our PayPal secure credit card service and sent anywhere in the world. Just click on the Paypal logo for the appropriate destination below.

UK destinations (£3.00):

European Destinations (£3.00 + £1.60 postage):

Destinations outside UK and Europe (£3.00 + £2.30 postage):

Click Here to return to the list of CDs and Video.