Celtic Soul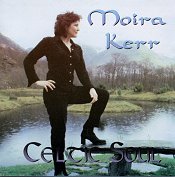 The 16 tracks on this CD show both Moira's great singing voice and also her songwriting skills as it interlaces a number of traditional Scottish songs that we all know and love with a number of her own compositions. Her songs are inspired by the sights and sounds of Scotland and by its history. The first song "MacIain of Glencoe" was prompted by the infamous massacre of the MacIains (a sept of the MacDonalds) by government order, in the atmospheric Glencoe. In response to a number of requests, you can see the words to MacIain of Glencoe here.
The excellent arrangements on this CD include backing from keyboards, accordion, uillean pipes, whistles, electronic double bass and electric guitar. The playlist includes:

MacIan of Glencoe(Words and music by Moira Kerr)
Will ye go, lassie, go
Where Eagles Fly (Words/music by Moira Kerr, from the TV production)
Sands of Time (Words and music by Moira Kerr)
Corryvreckan (The famous whirlpool; words and music by Moira Kerr)
Skye Boat Song (Traditional)
Bravest Heart (Words and music by Moira Kerr)
Loch Lomond (Traditional)
The Island of Tiree (Words and music by Moira Kerr)
Flower of Scotland (Scotland's unofficial national anthem)
Highlanders (Words and music by Moira Kerr)
Mingulay Boat Song (Traditional)
The Dark Island (Words by David Silver, music by Ian MacLaughlan)
Farewell to Tarwathie (Traditional)
Skye High (Words and music by Moira Kerr)
Drifting Away (Words and music by Moira Kerr)
Ordering This CD From Moira Kerr

This CD can be obtained direct from Moira at a cost of only £11.99 including post and packing in the UK. There is an additional airmail postal cost of £3.20 for European destinations outside of the UK or £4 for the rest of the world. An audio cassette version is also available for £8. All items obtained from Moira are signed personally by her on the CD or tape insert.
The CD can be obtained via our PayPal secure credit card service and sent anywhere in the world. Just click on the Paypal logo for the appropriate destination below.

UK destinations (£11.99):

European Destinations (£11.99 + £3.20 postage):

Destinations outside UK and Europe (11.99 + £4 postage):

Click Here to return to the list of CDs and Video.